Crime Stoppers Tip Leads to Heroin Arrest
March 07, 2016
07 March 2016

Crimestoppers Tip Leads to Heroin Arrest

NEW YORK STATE POLICE

Major William T. Keeler

PRESS RELEASE - March 7th, 2016

SP FONDA BCI

SP Fonda BCI received a tip via Mohawk Valley Crimestoppers of possible drug activity in eastern Montgomery County. Based on some of this information, SP Fonda patrols were able to make a traffic stop on one of the suspected vehicles for a Vehicle and Traffic Law violation. Investigation after the stop led to the discovery of 100 envelopes of Heroin (approx. 5 grams).

Arrested were Bruce E. St Pierre, 32 and Justin R. Krutz, 36 both of Amsterdam, NY. Both subjects were charged with Felony Criminal Possession of a Controlled Substance in the 3

rd

degree (intent to sell). St Pierre was also ticketed for Driving While Ability Impaired/drugs.

Both were charged in the Town of Glenville and remanded for a future court date in Schenectady County Court.

St Pierre (left) Krutz (right)
---
Mohawk Valley Crime Stoppers Getting results- gazette
March 10, 2016
http://www.dailygazette.com/news/2016/mar/09/0309_crimstop/?dgzrg
---
Oneida County Crime Stoppers Kickoff Fundraiser
May 18, 2016
We are pleased to announce a new partnership with the Rome, NY Police Department and Crime Stoppers USA to launch a program in Oneida County. With that we are kicking off the launch with a fundraiser so that we can offer rewards for some local cases.
The event will be held at the Rome Elks Lodge #096 on May 18th 2016 at 5pm. There will be a cash bar, Dinner, Conversation and Q&A with guests, raffles, and many other things.
We will have 2 guests from the hit TV show "The First 48" on A&E as guest speakers from the Detective Division at the Tulsa Police Department in Tulsa, OK. You can see these guys in action in episodes 6, 7 and 8 as well as many others.
The cost of a ticket in Advance is $25 and $35 at the door. There are also packages available for sponsorship. Please contact myself at 518-227-7266 or Captain Tim Bates from the Rome Police at 315-339-7715. We are looking for your commitment to attend the event to help support the program. The kickoff event will be our primary fundraiser for the year and will hopefully raise a lot of money to put towards some of the cold cases sitting out there.
We are also looking for donation items for our silent auction. If you know someone that owns a business willing to donate please reach out on our behalf and coordinate with us to speak with that business.
This program is an amazing tool to help solve crime. PDs all over the world utilize it to solve cold cases, high profile cases, identify wanted suspects/people, and track down wanted suspects. We have had great success already in our area. Please contact me at the number above if you are interested in volunteering for the event or with the Crime Stoppers program.
---
Dine to Donate with Tulsa Police Homicide Detectives-Recovery Grill Amsterdam
May 19, 2016
Come join Mohawk Valley Crime Stoppers and Detectives Matt Frazier and Justin Ritter from Tulsa Police Homicide featured on "the First 48" on A&E. This is a dine to donate event at the Recovery Sports Grill on rte 30 in Amsterdam NY. All you have to do is dine at the restaurant between 4pm and 9pm and 15% of your pretax check will be donated to Mohawk Valley Crime Stoppers. You will have the opportunity to meet the guys and take a picture. There will be raffles and a door prize
YOU MUST BRING A COUPON FOR THE DOOR PRIZE AND DINNER DONATION
Coupons can be requested at jglorioso2012@gmail.com or on our Facebook page at "Mohawk Valley Crime Stoppers".
---
Mohawk Valley Crime Stoppers GoFundMe Page
October 06, 2016
Mohawk Valley Crime Stoppers is continuously raising funds in order to pay for anonymous tip information that leads to arrests. Please help us reach our goal on our gofundme page! All of the money raised is used for tipster payouts and ultimately, this keeps our communities safer!
Please visit our gofundme page by clicking on the banner below!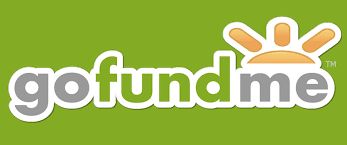 ---
Runnings Store Ladies Night Event
October 19, 2016
Mohawk Valley Crime Stoppers will be at the Running's Store in Rome, NY for their Ladies Night event. Join us for this great event and find out how you can help us solve crime! The event will be held on Wednesday, October 19th, 2016 from 5pm-8pm at the Running's Store, 5949 Rome-Taberg Rd., in Rome!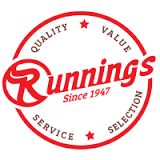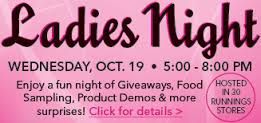 ---
Crime Stoppers Technology Kickoff
March 07, 2017
We will be holding 2 events on March 3rd, 2017 to launch a new program with Police and the Crime Analysis Center in Utica NY. The events will be held
1) Rome NY from 11-2pm.
2) Gloversville City Hall Courthouse at 4pm.
Details are confidential. Please direct any media to contact James Glorioso Jr Executive Director at 518-227-7266
---
Crime Kiosk Announcment
March 09, 2017
We are excited to announce a new crime fighting technology to the Mohawk Valley!! Mohawk Valley Crime Stoppers has invested in 2 state of the art community kiosks that will be operated as law enforcements "own news network". Gloversville Police, Rome Police and Utica Police were all selected to receive the kiosks as part as an ongoing partnership with Mohawk Valley Crime Stoppers.
These kiosks are the first of their kind in the North Eastern US and will be placed through the community. Media, Law Enforcement and local community leaders held 2 press conferences today announcing the new kiosks. "These are more tools for the police and community to fight crime!" stated Executive Director James Glorioso. Our board of directors worked tirelessly to get these. We sincerely want to thank the Carbone Auto Group and Alexander Carbone for their ongoing commitment to Crime Stoppers and the community. Without them this would not be possible!
These Kiosks will be out in the public and will display cases, missing and wanted suspects and public service announcements. We want to thank Rome Mayor Jacqueline M. Izzo, Mayor Robert Palmieri of Utica, and Mayor Dayton J King of Gloversville, Police Chiefs Mark Williams of Utica, Police Commissioner Frank Retrosi of Rome, Police Chief Kevin Beach of Rome PD, and Police Chief Marc Porter of Gloversville for their continued support. The Kiosks are directly connected to the Mohawk Valley Crime Analysis Center, National Center for Missing and Exploited Children as well as participating Police depts. We are super excited to have these and look forward to expanding this in the future.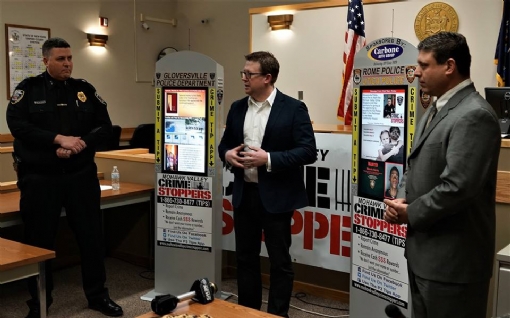 ---
Mohawk Valley Crime Stoppers Golf Scramble
May 18, 2017
Mohawk Valley Crime Stoppers 1st Annual Golf Scramble ...
Thursday, June 1st, 2017 ~ Sleepy Hollow Golf Course ~
Registration - 10:30AM to 11:30AM
Tee Time - 12:00 NOON
Dinner - 5:00PM
$75 per player - $300 per team includes Green Fees, Cart, 6-pack per Team, Bag Lunch on Cart and Dinner at the Club House
LIMITED TO 36 TEAMS reserve your spot today ...
CASH BAR
Registration Deadline is May 28, 2017
Mail Registration and Fees to:
Mohawk Valley Crime Stoppers
PO Box #4884
Rome, NY 13442-4884
Please MAKE CHECKS PAYABLE TO:
MOHAWK VALLEY CRIME STOPPERS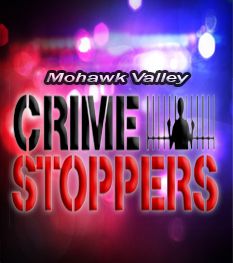 ---
Mohawk Valley Crime Stoppers Basket Raffle / Auction
March 31, 2018
MOHAWK VALLEY CRIME STOPPERS is hosting a Basket Raffle / Auction FUNDRAISER … on Saturday, March 31st, 2018 at the VFW Post #2246, 315 N. Washington Street, Rome, NY from 1:00pm to 5:00pm. It will include various donated items for basket raffles / auction.
Mohawk Valley Crime Stoppers is a non-profit organization led by citizens against crime, which offer cash rewards to persons providing anonymous information that leads to the felony arrest of criminals and fugitives. Information is received through anonymous Crime Stoppers tips that are received through a secure tips line or through a secure web connection. Each caller is assigned a code number for ensuring anonymity. This is a community program in which members of the community, the media, local law enforcement agencies, and businesses work together to solve crime. Citizens are encouraged, via cash rewards and a promise of anonymity, to provide information leading to the arrest and indictment of criminals.
How Can You Help?
Mohawk Valley Crime Stoppers is now asking for a basket / gift donation to raffle for this event. This gives you an opportunity to advertise while supporting our community. Your donation, will ensure that we will continue to make our community a safer place to live. All proceeds raised from this event will go to the tip reward hotline. Please email us at MVCrimestoppers@yahoo.com if you would like to donate for this fundraiser.
Mohawk Valley Crime Stoppers is an exempt organization as described in Section 501(c)(3) of the Internal Revenue Code; EIN #47-2945414. Donors can deduct contributions made.
Thank you in advance,
Judy Zawisza-Kessler
Mohawk Valley Crime Stoppers – Board of Directors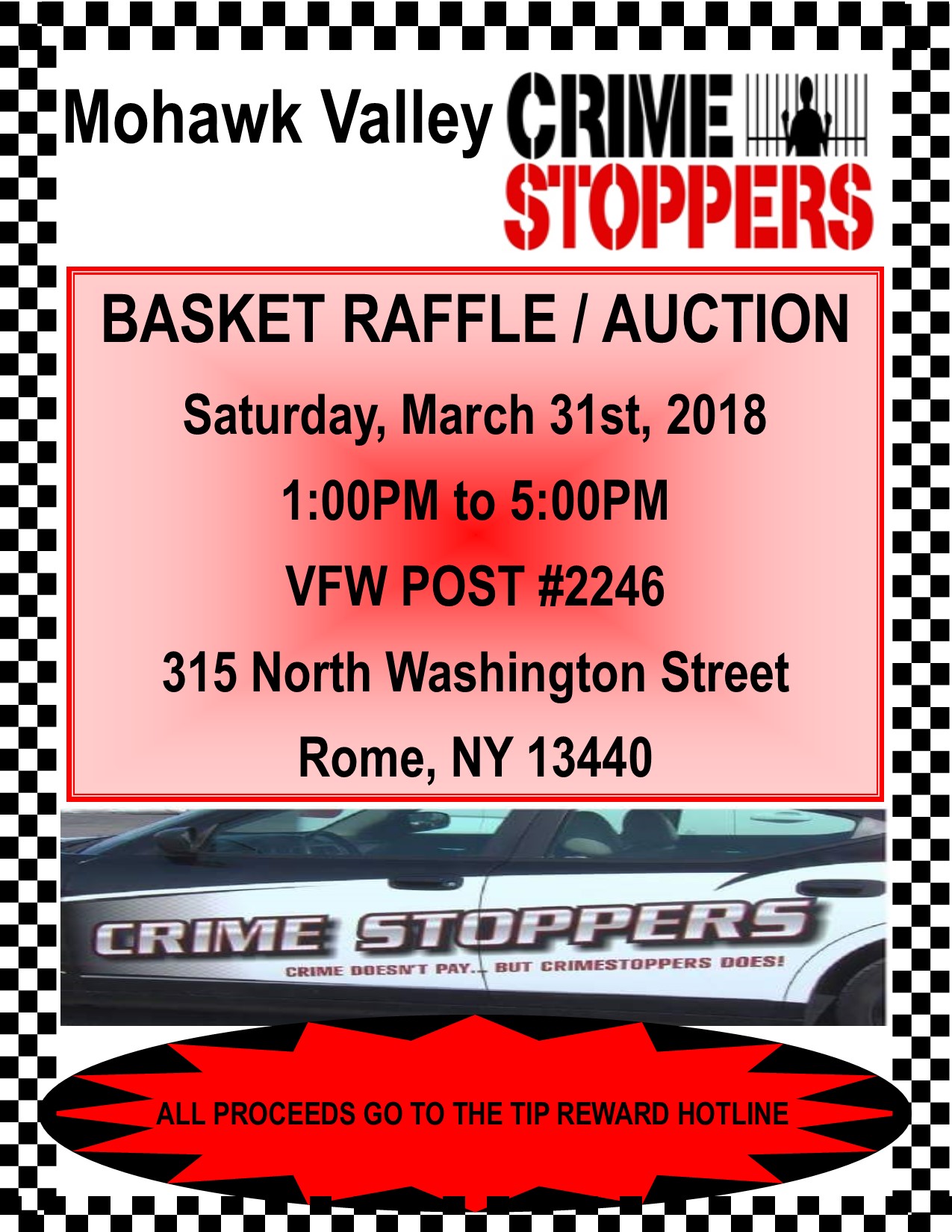 ---