If you have any information about these crimes or any person(s) involved, you are urged to call Crime Stoppers at or submit a Web Tip . You do not have to give your name. CRIME STOPPERS will pay a cash reward of up to $1500 and you can remain anonymous.
Utica, NY Homicide
February 28, 2017
REWARD $5000 - UTICA HOMICIDE
The Mohawk Valley Crime Stoppers is assisting Utica Police by offering a $5,000 reward for information leading to the arrest of the person(s) responsible for the murder of Theodore "Ted" Talerico. Mr.Talerico was found shot to death on the 600 block of Kirkland St, Utica on the morning of Tuesday February 21, 2017. Anonymous tips can be placed at www.mohawkvalleycrimestoppers.com, through the P3tips app, or by calling Crime Stoppers at 1-866-730-8477. We are asking for the public to call in any information, no matter how small it is. All information is kept 100% anonymous through our tip lines.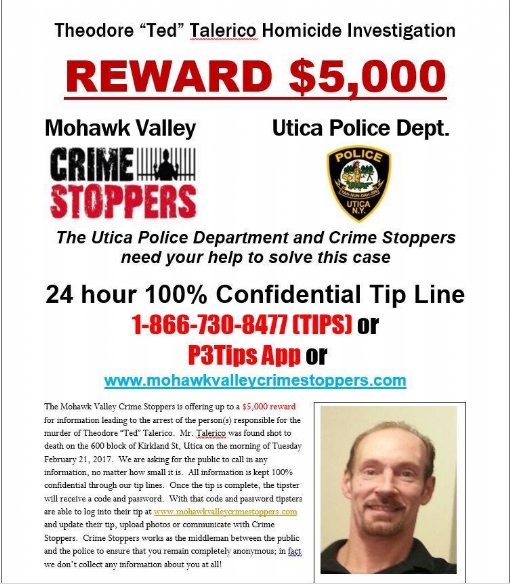 Utica Police Department Homicide
---
Utica, NY - Home Invasion
January 16, 2017
***News Release-Crime Stoppers Reward***
On January 3, 2017 at approximately 8:15 PM the resident of 1020 Tilden Ave 2nd floor reported hearing someone knocking on the back door. When the resident opened the door an unknown male who was described as being approximately 5'9" with a large build wearing a ski mask forced his way into the residence. The suspect was described as a white or Hispanic male. The resident was ultimately tied to a chair during this incident. While the resident was restrained in the chair the suspect stole a large amount of US currency, assorted jewelry and a tablet. The suspect then fled the residence through the front entrance of the building. Anyone with information regarding this investigation is requested to contact the Utica Police Department Criminal Investigation Division crime tip line at 315-223-3555. If anyone has any information regarding this investigation they can also contact Mohawk Valley Crime Stoppers on their website at http://www.mohawkvalleycrimestoppers.com/ or by calling 1-866-730-8477. All tips can be made anonymously. A possible cash reward of up to $1,500.00 can be awarded to anyone who provides useful information regarding this investigation that leads to an arrest and conviction.
---
$5000 Reward- Murder of Larry Edwards- Utica NY
May 29, 2016
On May 18, 2016, the Utica Police Department Is looking for any information regarding the murder of Larry Edwards. The City of Utica Police in conjunction with Mohawk Valley Crime Stoppers announced that there is a $5,000.00 reward being offered for information leading to the arrest and conviction of the person or persons responsible for the murder of Larry Edwards. Edwards, a m
ember of the homeless community in the City of Utica was killed by gunfire on May 7, 2016. Edwards was found deceased in a vehicle behind 301 Rutger St.

Mohawk Valley Crime Stoppers is a 100% confidential tip line. You will not be asked to provide your name or number they only ask for your tip. You can give your tips to Crime Stoppers through the following:

Phone- 1-866-730-8477 (TIPS)

Website-

www.mohawkvalleycrimestopp

ers.com
---